GOODYEARWELT MANUFACTURING SYSTEM
The Goodyear artisan manufacturing method is named after Charles Goodyear, who revolutionized the footwear industry in 1872 with the invention of a sewing machine that sped up the stitching of the shoe's upper and welt.
Goodyearwelt is the international name for the best type of shoe on the market. It is a handmade, durable and elaborate manufacturing method, synonymous with a quality shoe, which only the best manufacturers use to achieve the excellence of good footwear.
To fully understand the Goodyear manufacturing process, we differentiate the morphology of the shoe:
Corte: Forms both outer skin and inner skin (lining).
Palmilla: it is an insole that forms the base of the shoe.
Entresuela: it is a leather insole.
Vira: leather strap that joins the corte, tje palmilla and the entresuela.
Piso: It can be made of rubber or natural sole.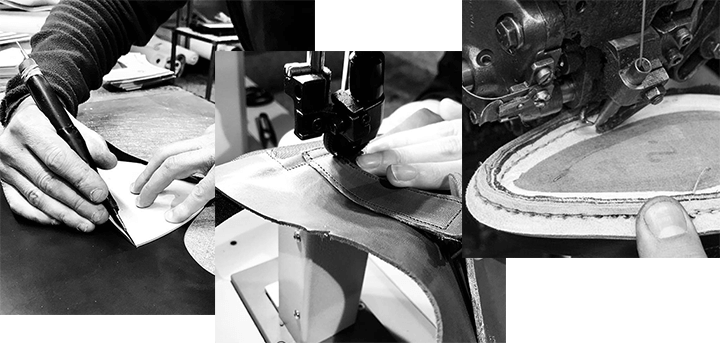 Process:
The process begins with cutting the skin into different pieces. This cut can be done manually, as in our case, it requires high precision on the part of the operator with the die. The Goodyear method is complex and time consuming, involving more than 250 steps for each shoe.
It consists of a double stitch: a seam that joins the upper to the welt and the welt to the sole. Between the outer sole and the sole, there is a space that is filled with agglomerated cork without interior seams, providing comfort and adaptability to the thermal insulation foot.
Once the three parts have been sewn, the seam is hidden between the upper part and the welt, which follows the contour.Once the operation is finished, the excess skin is cut to be able to place the agglomerated cork.
As the lower base is covered with cork, a metal piece is placed to reinforce the structure known as the shank.
Once the three parts are sewn, the seam is hidden between the upper part and the welt, it follows the contour.
Afterwards, a piece of leather is placed that acts as the sole and will be sewn to the welt. We see this stitching visible on the outside of the shoe.
Finally, it would only be necessary to incorporate the heel and give it the final touches.
Advantages of Goodyear stitching:
COMFORT
THERMAL ISOLATION
FLEXIBILITY
STRENGTH